We are in our transition period of summer when the days are quite lazy and we are getting ready to leave for Nantucket. C and John did play a game of bags (what people up here call corn hole) the other evening. The game was a school auction acquisition back in 2010 and originally came with the standard red and blue bags. One night earlier this spring the bags were left out in the rain and got ruined. I ordered a set of replacement bags, but made covers for them so they matched the boards :)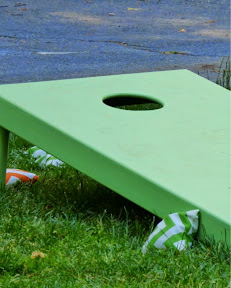 We don't plan on leaving these out in the rain anytime soon! And yes, I wanted to make these even before the old ones got wet!
Hoping to go hit some golf balls at the driving range and maybe hit the beach today. Hope you have a great day!